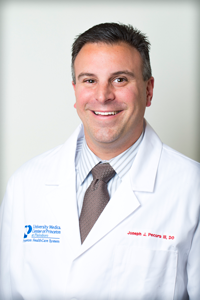 Dr. Pecora joined Montgomery Medical Associates in 2002 and is currently the managing partner and President.
Dr. Pecora graduated from Seton Hall University, South Orange, NJ, in 1995 with a degree in Biology.  He received his degree as a Doctor of Osteopathic Medicine, D.O. in 1999 from Lake Erie College of Osteopathic Medicine (LECOM), Erie, PA.  His internship and residency were completed in Internal Medicine at St. Barnabas Health Care System, Union, NJ. He was Board Certified in Internal Medicine/ACOI in 2002.
Dr. Pecora's experience in private practice began in 2002 when he joined Montgomery Medical Associates.  He currently serves as the Physician for the Township of Montgomery and the Medical Director for Stonebridge at Montgomery CCRC, a subsidiary of Springpoint Senior Living Services Inc., Skillman, NJ.  He is also an attending physician for Bridgeway Senior Care Center, Foothill Acres Rehabilitation Center and East Mountain Hospital, Belle Mead, NJ.  In addition, Dr. Pecora provides inpatient medical consultation services at Princeton House Behavioral Health. 
Dr. Pecora's achievements include: Internal Medicine Resident of the Year 2001-2002, Chief Intern 2000 and the Rudi Wadle Scholarship Award Winner 1999-2000 and 2001-2002.
  
CERTIFICATIONS
AMDA (American Medical Director's Association) 2007
- Certified Long Term Care Medical Director
  
AFFILIATIONS
Penn Medicine - Princeton Health
1 Plainsboro Road
Plainsboro, NJ 08536
Attending Physician
Stonebridge at Montgomery - Skillman, NJ
Bridgeway Senior Care Center - Hillsborough, NJ
Winchester Gardens and Spring Hills Post Acute - Princeton
ASSOCIATIONS
American Osteopathic Association
American Medical Directors Association
American College of Osteopathic Internists
American Society of Addiction Medicine
American Osteopathic Academy of Addiction Medicine